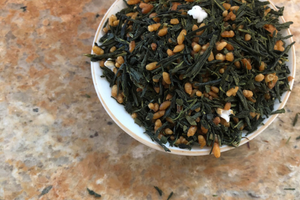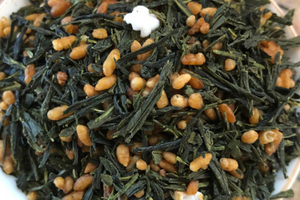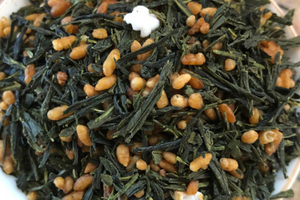 Genmaicha
Genmaicha is the ONLY traditional Japanese tea blend. Traditionally, tea has almost always been consumed without blending it with other ingredients. Genmaicha is the exception. This green tea and toasted rice blend is a Japanese classic.
Genmaicha tastes like popcorn- light but starchy. The green tea base gives this tea depth while the rice rounds out the flavor so that it feels like a satisfying and even filling beverage.
Quantity: 1 oz (28.3g) 
Ingredients: bancha green tea, toasted rice.
Caffeine level: light
Steeping Instructions: Steep 1 tsp for 30 seconds in 170-180°F water. Infuse 2-3 times.
Uses: refreshing, daytime, calming.