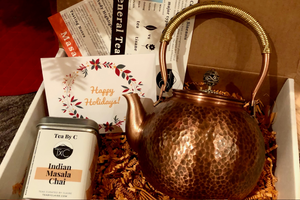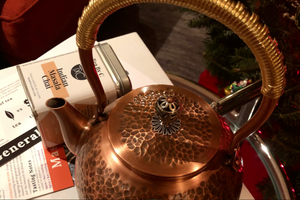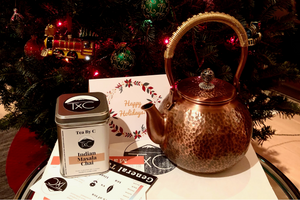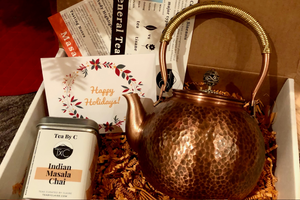 Copper Kettle and Chai Set
The Copper Kettle & Chai Set is a wonderful gift for the tea lover in your life. This deluxe gift set pairs a seasonal Masala Chai with a beautifully handmade copper tea kettle.
The kettle was thoughtfully designed to balance practical use and aesthetic appeal with fine detailing. The body of the kettle is hammered to create a textured surface and the hinge handle is wrapped in brass for a comfortable grip. The floral lattice knob on the lid of the kettle adds a touch of delicacy to the durable copper nature of this kettle.
Masala Chai is a spicy Indian tea blend that is perfect for the holiday season. This tea is a medley of iconic seasonal flavors- cinnamon, cloves, and ginger. Prepare this tea with hot water and add a little milk and/or sweetener to make a decadent warm treat.
Specs: The kettle holds 44oz of water and is 4inches in diameter and 4.5 inches tall.
Tea ingredients: black tea, cardamom, ginger, cloves, natural cinnamon flavor, and cinnamon.