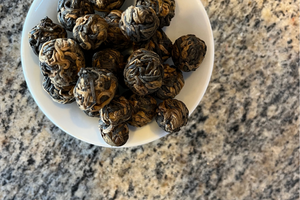 Dragon Pearls Black
Dragon Pearls Black is a delicious easy morning tea. This tea is particularly unique and distinguishable by the round shape of the tea pearls. Tea leaves are picked, bruised, heated, and rolled into these tight individual balls that unfurl during brewing.
Quantity: 1 oz (28.3g)  
Ingredients: black tea
Caffeine level: high
Steeping Instructions: Steep 1 tsp for 1 minute in boiling water. Infuse 3-4 times.
Uses: focus, energizing, afternoon or morning tea.