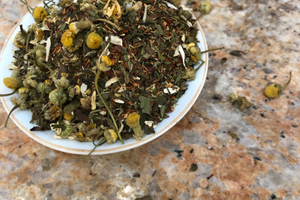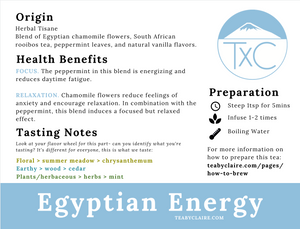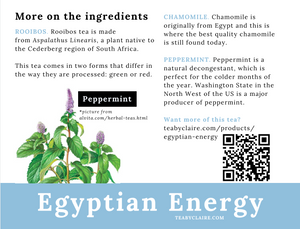 Egyptian Energy
Egyptian energy is an herbal blend that will give you a relaxed focus feeling- the peppermint creates the energy and the chamomile creates the relaxation. This tea is minty, floral, and sweet thanks to the vanilla and rooibos. 
I recommend this tea for that last hour at work or in the library- it'll give you a last little boost without keeping you caffeine-wired for the whole evening.
Quantity: 1 oz (28.3g) 
Ingredients: Egyptian chamomile flowers, South African rooibos tea, peppermint leaves, and natural vanilla flavors.
Caffeine: none.
Uses: evening, relaxed focus.