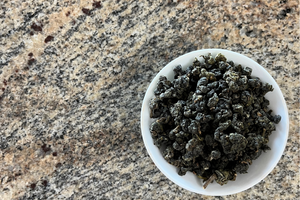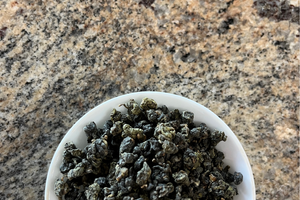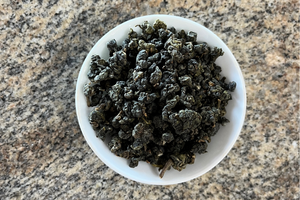 Zhushan Oolong
Zhushan Oolong is a tea from Zhushan Township in Nantou, Taiwan. The grower and teamaker is Alfredo Lin. The Lin family has a long history of growing tea and owns many tea gardens in Nantou, Taiwan. Alfredo decided to start his own tea garden and use specific growing and processing techniques that set his tea apart from others. One of these techniques is aerodynamic withering, which is using airflow to even out withering and make it consistent across the entire leaf. This gives the tea a more consistent flavor overall. Alfredo is also known for his style of highly oxidized oolongs. This means they resemble black more than green teas.
Quantity: 1 oz (28.3g)  
Ingredients: oolong tea
Caffeine level: medium
Steeping Instructions: Steep 1 tsp for 1 minute in 180-190°F water. Infuse 2-3 times.
Uses: afternoon tea, meditation, zen